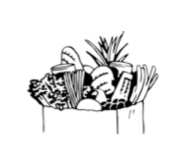 Feed A Family Day ~ A Local Mission Opportunity
The 3rd Sunday of the month is our designated donation day
for food for a local family. The following week, Susan will coordinate the distribution of that food to a single family.
This month our donations are for one Adult. There are no dietary restrictions.
If you'd like to give a monetary donation, it will be used for food vouchers for LaBonne's in Woodbury. If you have any questions, please feel free to call Susan in the church office.